Crew Profile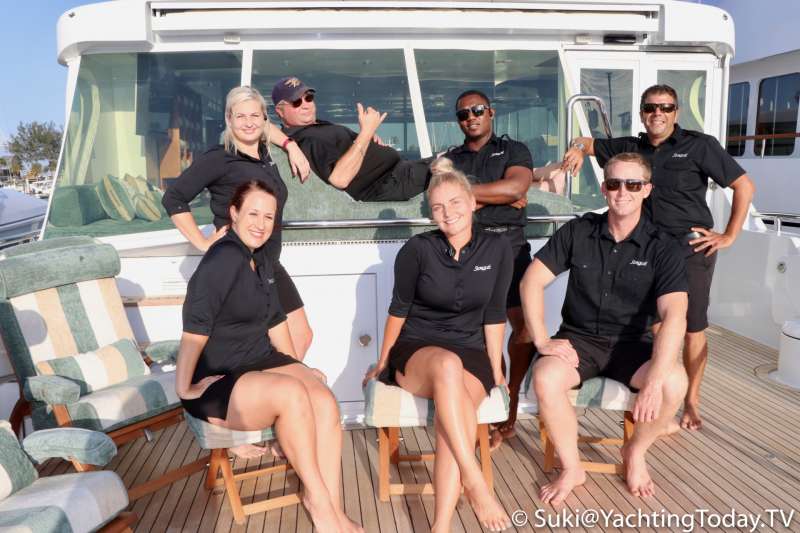 Captain, Scott Redlhammer
Scott was born and raised in Hollywood, Florida. Coming from a family that has been in the shipping and fishing industry for over 40 years, he is an avid Scuba diver and tournament angler, commercial pilot and fine Captain. Scott served over 20 years in the US Navy and has since retired into full-time Captaincy. Captain Scott strives toward excellence in service, safety and enjoyment for all crew and guests aboard his vessel.
Chief Stewardess, Anchen Coetzee
Anchen grew up in sunny Grahamstown, South Africa. Growing up in a small town and farming community, she has a great love for wild animals and the outdoors. She has a degree in International Hotel Management with more than 10 years' experience behind her. Managing hotels in and around Cape Town fed her passion for travelling and what better way to see the world and put her skills to good use than yachting. She takes great care and pride in ensuring that her guests are well attended to and have a sensational and memorable experience while onboard M/Y Serque.
Chef, Yekaterina Kavkazskaya - Rotation
Katya was born and raised in Russia, Moscow. Katya and her family moved to the states when she was a young teenager and dreamed of becoming a vet, but that dream was put on hold when she fell in love with cooking. Katya completed her culinary arts training through J&A Culinary Arts Institute and has never looked back. Yachting has been part of her life for the past 7 years and eagerly awaits to mesmerize our guests with tantalizing nibbles.
Engineer, Patrick Edwards
Patrick comes from St. Mary, Jamaica. Patrick grew up with a strong independent mother who always pushed him for the best education and drive to excel in any endeavor. Patrick travelled the Caribbean, Central and South America with his Cadetship,completing his 3-year Marine Engineering Degree through the Caribbean Maritime University. He then had the opportunity to join the yachting industry and has never looked back.
2nd Stewardess, Megan Heyns (South African)
First Mate, Lior Beser
Born in Israel and raised in Antwerp, Belgium. A natural traveler, Lior left Belgium and became a Scuba Instructor, training eager tourists all around the world in Thailand, Australia and Mexico just to name a few. His love for the ocean lead him to pursue a life as small vessel captain. With his 200GT US Coastguard License under his belt, Lior dreams of one day completing all his required hours to achieve a position as a Captain aboard a larger vessel such as Serqué. Lior's enthusiasm and good humor will never leave you with a dull moment.
Stewardess, Elri Horner
Elri also hails originally from small town Grahamstown, South Africa. After school she studied International Hotel Management. After working in many Wild Safari Game Lodges in South Africa. Elri embarked on the yachting profession 4 years ago seeking the wide-open ocean and its beautiful island destinations. Elri's creative personally has also lead her down a cooking road in the past and she loves to help Katya around the galley when she is not attending to and entertaining our wonderful guests.
2nd Stewardess, Alyssa Desmarais
Alyssa joins M/Y Serqué from rural Connecticut, where her family owned a sailboat. After graduating college at Salve Regina University in Newport, RI, Alyssa moved to Los Angeles, working in concierge services and events for a real estate company. Her love of seaside life and travel brought her to yachting where her hospitality and positive demeanor will make every trip a 5-star experience for our guests.
Deckhand, Andre van der Linde
Andre recently joined the Serqué team and has been nothing short of a well skilled bosun on our decks. Andre grew up in Langebaan along the West Coast of South Africa. If you want to talk about sailing, Andre is the guy. He will tell you about all his Catamaran deliveries and crossing the Atlantic Ocean not once, not twice, but three times. Before we scouted Andre, he was a sail instructor in Cape Town, South Africa but had a passion to work with people and embarked on the yachting industry. If you choose to fill your day with fun water sport fun, Andre is just a whistle away and ready to entertain you in the cooling waters under the sun.