COSMOS LUNA
Length
33.4m
Make
Incetrans Shipyard
Year
2009
Staterooms
5
Guests
10
Crew
6
Weekly
Low €42,000
High €56,000
COSMOS LUNA yacht is great for your charter vacation, it's a truly wonderful 33.4 feet yacht that your group will love. The yacht sleeps 10 people in 5 nice cabins. COSMOS LUNA yacht was manufactured in 2009 by Incetrans Shipyard. Powered by Engines : 2 * 2000 Hp MTU Generators : 2 * 27.5 kVA Onan engine, COSMOS LUNA can run at a top speed of knots and can cruise at 18 Knot knots. You will fall in love with this yacht as it offers many cool features and entertainment, such as: Salon TV, Sun Awning, Satellite TV, Pets Aboard, Dinghy HP, Adul Water Skis, Sailing Dinghy, . You can charter COSMOS LUNA in for a weekly charter rate of €42,000 - €56,000 depending on the season. The yacht comes with 6 crew members.
Helipad: No
Jacuzzi: Yes
AC: Full
Preferred Pick up: Antalya, Turkey
Engines/Generators: Engines : 2 * 2000 Hp MTU Generators : 2 * 27.5 kVA Onan
Fuel Consumption: 350
Cruising Speed: 18 Knot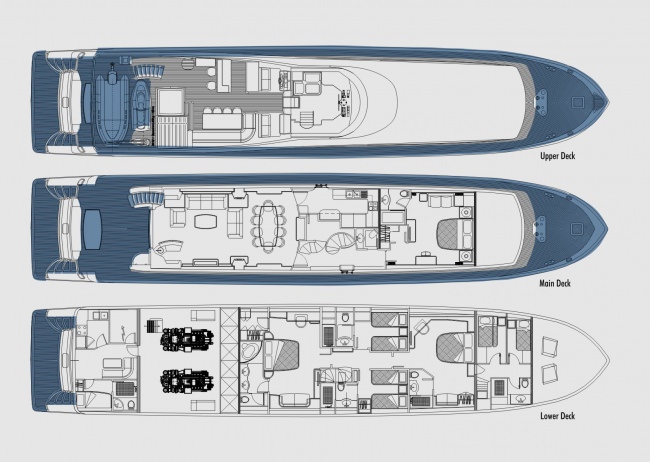 Water Sports
Other Toys:
- 4.8 m Evinrude Joker Boat 90Hp (2012)
- Jet-ski
- 2 * Waterski
- Ringo
- Banana
- Canoe
- Snorkeling Equipment
- Fishing Equipment
Communications:
FLYBRIDGE
E120 Display 12,1" indicator 2 units
RAY240 EU 2 ND STATION 1 unit
ST8002+CONTROL UNIT 1 unit
Seatalk Joysteak 1 unit
Intercom 1 unit
ST 60 Grahic display 2 units
ST 60 Wind display 1 units
WHEELHOUSE
G150 15" Display 2 units
Remote station 1 unit
RS 125 GPS 1 unit
ST 60 Graphic display 1 unit
4 KW open arry Aerial 1 unit
25 M radomel cable 1 unit
ST8002+CONTROL UNIT 1 unit
Seatalk Joysteak 1 unit
ST 60 Tridata display 1 unit
Ray 430 Hailer 2 units
RAY240 EU 1 unit
Ray 54E VHF 1 unit
ST 60 Wind system 1 unit
Navtex Furuno NX 300 1 unit
EPIRB 1 unit
SART 1 unit
STV 60 sattelite 1 unit
Receiver 12 unit
Multiswitch 1 unit
S3G COREPACK 12/24V-SEE NOTES 1 unit
Swither 1 unit
For rail 240 2nd station 10 meter cable 2 units
DSM 300 1 unit
600 watt bronze Tx 1 unit
Bronze Transducer for depth 1 unit
Radio aerial 2 meter 2 unit
CCTV box 1 unit
Camera 3 units
Rail marine AIS 1 unit
Hailer Horn 1 unit
Ray101E VHF 1 unit
Navionics map (Marmara, Aegean Mediterranean, Coastal Region of Turkey) 1 unit
Other Entertainments:
Salon and home cinema BOSE lifestyle 28 series III 42" LG Plasma TV (Full HD)
- 3 pieces Master cabin LOWE 24 LCD TV
- 3 pieces Master cabin, 2 units guest cabin, 3 pieces personnel cabin and totally 8 pieces PIONEER HED P49001B
Radio CD player,
- 3 units master cabins DVD,
- 12 pieces satellite receiver, (Next brand)
1 piece Rear pool LOWE 24 LCD TV
- 4 pieces loudspeaker, in the rear pool chamber connected to stereo system working from independent remote sound control
- 4 pieces loudspeaker, in the fly bridge saloon connected to stereo system working by separate sound command

MASTER DECK AND POOL
15 mm. thick teak ground
Over paramphet stainless steel U shape handle teak ledger boat
On the both section of the upper construction and on the ceiling of rear pool peripheral deck illumination
Water pathway
On the upper section buried Fire cupboard. Chrome roller.
Over the surface of upper section 18 mm Temper frameless glass is replaced.
On the upper section to machine chamber, to master deck corridor and to the kitchen lying three entrance gates.
On the both sections of the upper part fuel and water filling moulds.
Stainless steel frame reinforced glass made saloon gate
On the flag part of the pool one cupboard. Lavatory in the cupboard, fridge.
Single piece, teak floor, banister and decoratively illuminated fly bridge ladder
Fixed two stainless steel chunk 8 persons teak table, 4 pieces mat armchair or pliable chair, on the rear cushion sitting group
Electro hydraulic teak floor and stainless steel frame pasarella (OPACMARE)
Stainless steel and teak manual swimming ladders
Teak coated swimming platform
For emergent circumstances manual Personnel rear entrance gate.
On the rear mirror stainless steel yacht name
On the rear, warm, cool and Automatic cable roll
On the head and rear pool fire extinguish hose and water pathway
Fire extinguish commands
In a banister rear pasteralla, rear section personnel entrance gate
Stainless steel rear pool entrance gate
Along the ladder lying down to swimming pool platform stainless steel handle bars
For the discharge of contaminated water land connection
Waterproof Aluminum gate chain set.
Chain wash by fire extinguish hose
Fenders and their covers ( Poly form )
On the front section of upper section wide sun bath seat
For master deck wash hose connection
Fire extinguish hose
For front glass three pieces electricity windscreen wiper Speich brand
For windshield glass black color coating
Summer Operating Ports Greece, Turkey
Winter Operating Ports Greece, Turkey
No Calendar Data available.
Please contact clearing house
Welcome to 2023
Charter Collection
Explore a world of remarkable destinations with day and term charter voyages.
Download my Copy
error: Content is protected !!